Mission
Our mission is to help the world's entrepreneurs rapidly deliver high-quality products to the market, regardless of production volume. As a global ecosystem contributor, we provide founders with essential resources such as investment, mentorship, prototyping know-how, manufacturing expertise and community support.
Community
We aim to build a global ecosystem that puts the growth of startups first.
By leveraging this community, startups can benefit from support for prototyping and mass production, selection of factories and suppliers, funding, and matching with large corporations.In turn, we believe the growth of startups will also benefit all partners in industry, government and academia.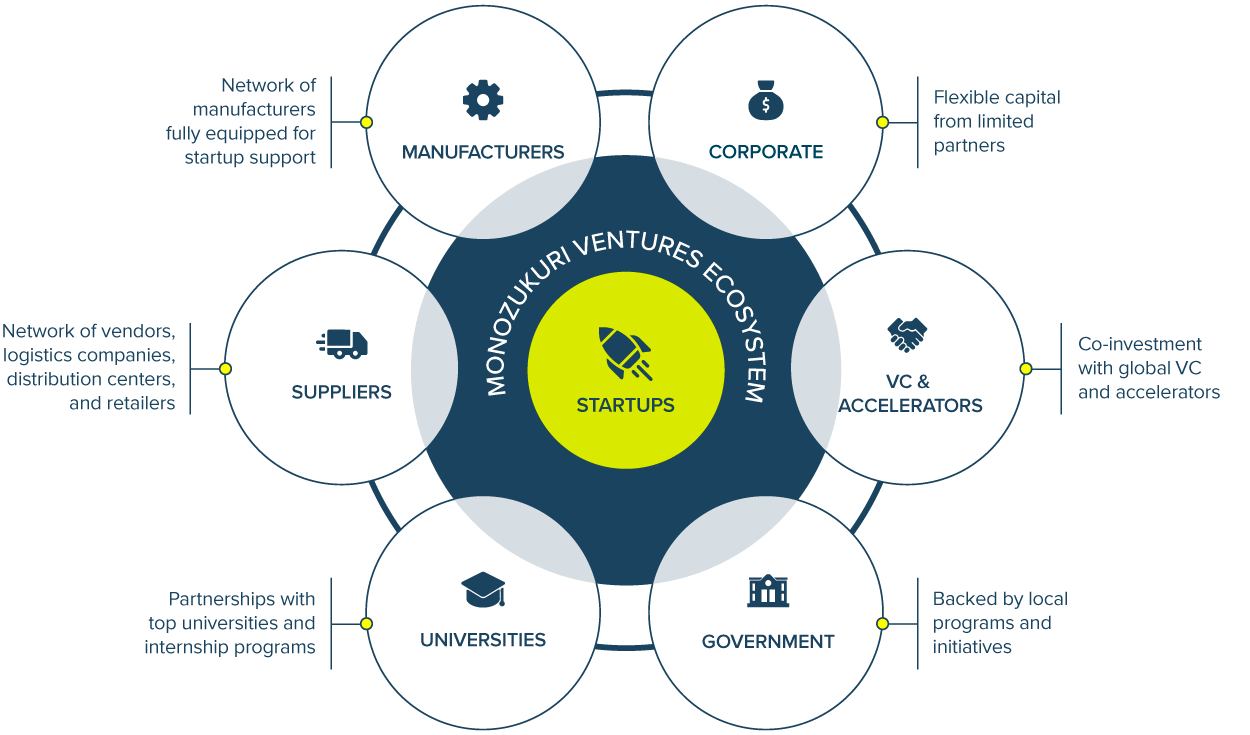 History
Monozukuri Ventures was established through the merger of Kyoto-based Darma Tech Labs and New York-based FabFoundry.
The synergy of our respective knowledge and networks will allow us to grow together with startups.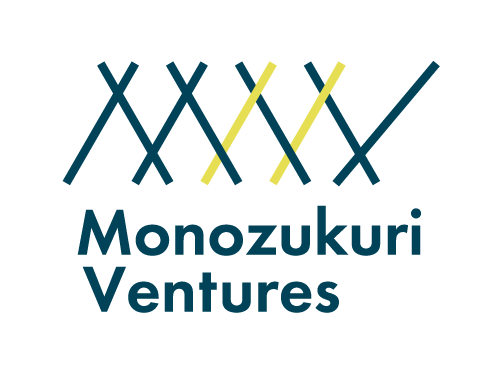 | | | | | | |
| --- | --- | --- | --- | --- | --- |
| | Darma Tech Labs | | Fabfoundry | | Monozukuri Hardware Startup Consortium |
| | | | |
| --- | --- | --- | --- |
| Jan | 2020 | | Announced that the two companies will be merged and renamed to Monozukuri Ventures |
| Sep | 2017 | | Opened Kyoto Makers Garage in Kyoto |
| Apr | 2017 | | Held Monozukuri Demo Day 2017 in New York (Ongoing) |
| Mar | 2017 | | Announced launch of MBC Shisaku fund in Kyoto |
| Feb | 2017 | | Held Monozukuri Hardware Cup 2017 in Osaka (Ongoing) |
| Sep | 2016 | | Jointly established Monozukuri Hardware Startup Consortium in Kyoto |
| Jul | 2016 | | Held Monozukuri Bootcamp 2016 in Kyoto and New York (Suspended in 2017) |
| Apr | 2016 | | Started Monozukuri Hub Meetup in Kyoto (Ongoing) |
| Jan | 2016 | | Launched Monozukuri Saturday Meetup in New York (Suspended in 2018) |
| Dec | 2015 | | Increased capital mainly from Kyoto Shisaku Net |
| Sep | 2015 | | Started the program Makers Boot Camp in Kyoto |
| | |
| --- | --- |
| | Darma Tech Labs |
| | Fabfoundry |
| | Monozukuri Hardware Startup Consortium |
Jan
2020
Announced that the two companies will be merged and renamed to Monozukuri Ventures
Sep
2017
Opened Kyoto Makers Garage in Kyoto
Apr
2017
Held Monozukuri Demo Day 2017 in New York (Ongoing)
Mar
2017
Announced launch of MBC Shisaku fund in Kyoto
Feb
2017
Held Monozukuri Hardware Cup 2017 in Osaka (Ongoing)
Sep
2016
Jointly established Monozukuri Hardware Startup Consortium in Kyoto
Jul
2016
Held Monozukuri Bootcamp 2016 in Kyoto and New York (Suspended in 2017)
Apr
2016
Started Monozukuri Hub Meetup in Kyoto (Ongoing)
Jan
2016
Launched Monozukuri Saturday Meetup in New York (Suspended in 2018)
Dec
2015
Increased capital mainly from Kyoto Shisaku Net
Sep
2015
Started the program Makers Boot Camp in Kyoto
Locations
KYOTO OFFICE
Kyoto Research Park – 93 Chudoji Awata-cho, Shimogyo-ku, Kyoto-shi 600-8815
NEW YORK OFFICE
2910 Thomson Ave, C760, Long Island City, NY 11101