Investment
As the first Japanese fund for prototyping, we make investments to help our daring startup founders cover prototyping fees. We co-invest with incubators, accelerators and VCs, and have an efficient due diligence process that will result in funding a first round of manufacturing. We also provide business management consulting and advisory services to those in whom we invest.
You can raise capital with us if you are a seed/early stage hardware startup incorporated either in the US or in Japan*
*Other regions to be covered soon. If you're a VC interested in partnering with us, send us a message.
How we invest
We currently invest in 10-15 hardware startups per year, with a typical check ranging from USD 100K to 300K at first, with a chance to follow investment up to USD 1M accumulate.
We're focused on funding entrepreneurs in the fastest growing industries: robotics, AI, clean energy, wearables, space tech, IoT, healthcare, smart home and more.
We provide financing services such as equity investment and debt financing. For example, we invest in common stock, preferred stock, convertible note, SAFE and KISS.
Technical Consulting
We help iterate your hardware product at any stage, from prototype to mass production.
Prototyping from scratch
Have an idea or design you want to bring to life? Our team will help you head-start your dream and create a tangible prototype without your physical presence. Our makerspace Kyoto Makers Garage is an innovative community hub equipped with useful resources for 3D printing, laser cutting, CNC routing and other basic startup prototyping needs. We have helped entrepreneurs and makers create and prototype engraved wood blocks, custom modeled 3D printed parts, LED circuits, and much more.
We also offer a series of workshops for organizations and educational institutions, fostering creativity and critical thinking based on lean startup and agile methodologies.
Technical consulting and manufacturing support
Understanding the challenges startups run into, we focus on crafting an optimized production strategy at every stage of a startup's product development. With our help, you get a dedicated team of engineers and first class manufacturing consultants that have helped dozens of startups just like yours with specific project management challenges. We have access to an extensive supply network and a system to create advanced products which meet your needs. Our design for manufacturing practices ensures that products are specifically designed for the factory process which shortens the product development cycle and reduces costs.
Years of experience of Japanese monozukuri culture ensure your startup product is manufacturable with our focus on hardware startups at every stage of your business, from prototype to mass production.
For example, we can help you with:
・design and manufacturing suppliers at the prototyping stage
・design suppliers for design for mass production
・mass production suppliers for mass manufacturing
・suppliers for reducing cost and risk in a single country sourcing
Need help with manufacturing? Let's talk.
Steps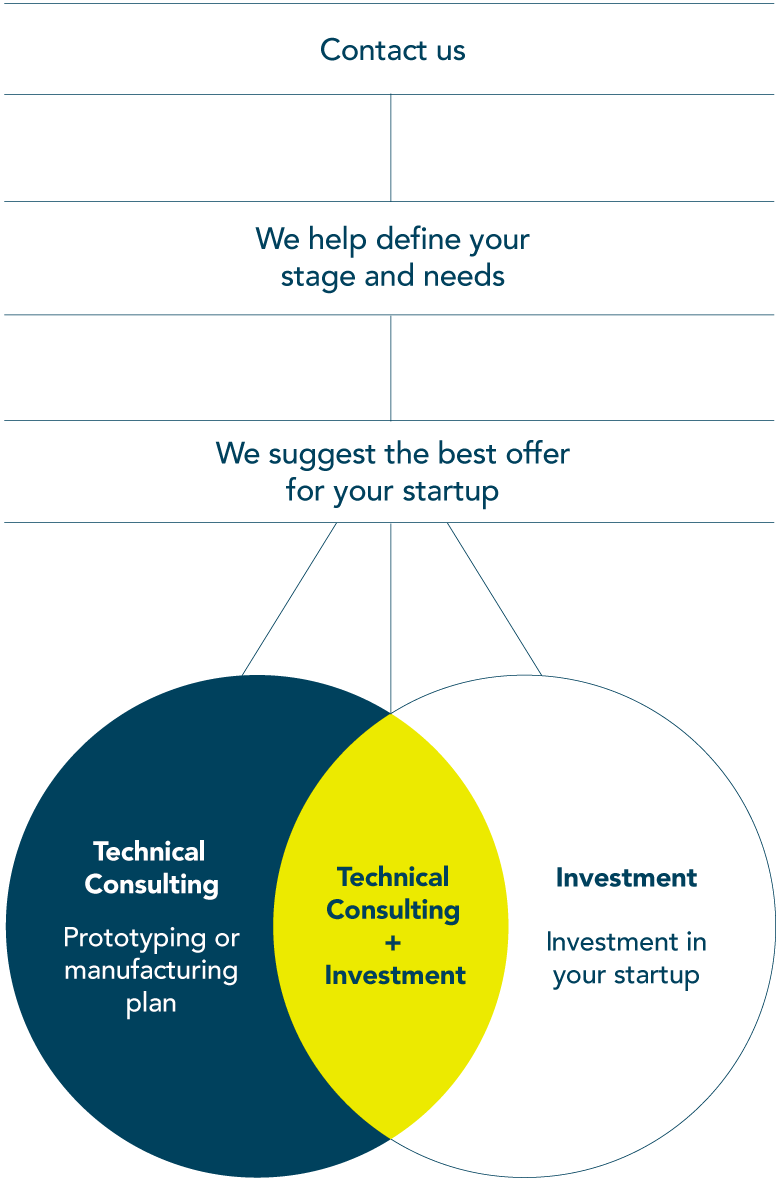 KYOTO OFFICE
3F Umekoji MArKEt Bldg, 34 Sujakuhozo-cho, Shimogyo-ku, Kyoto-shi, Kyoto 6008846
NEW YORK OFFICE
2910 Thomson Ave, C760, Long Island City, NY 11101